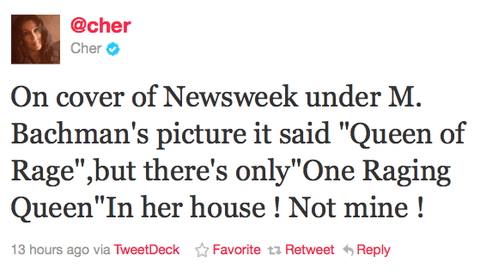 Singer Cher is still hitting hard at Michele and Marcus Bachmann.
Cher a few weeks back took aim at the fact that Mr. Bachmann runs a clinic that tries to "cure" gay people. Now she's getting more explicit, suggesting that Newsweek called the wrong Bachmann "queen" on their recent cover featuring Michele.
"On cover of Newsweek under M. Bachmann's picture it said 'Queen of Rage,' but there's only 'One Raging Queen' in her house! Not mine!" she wrote on Twitter yesterday.
Cher promptly followed that message with this remark: "Its not kind, &u know my feelings bout being Gay! No Excuse 4me, & feel bad 4 him but look at the suicide in her district & look at his job."
Read Cher's tweet of consciousness, AFTER THE JUMP…