The defense today rested its case in the trial of Brandon McInerney, who shot his gay classmate Lawrence King in the head at their school in Oxnard, California in February 2009, the L.A. Times reports: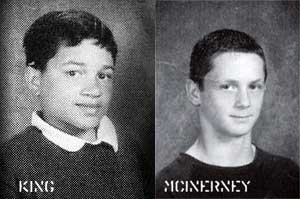 Defense lawyers rested their case Monday without calling to the witness stand the youth who killed fellow eighth-grader Larry King before two dozen horrified classmates and a teacher at E.O. Green Junior High in Oxnard.  Defense attorney Scott Wippert told the court that McInerney, now 17, made the choice not to testify…
…The defense contends that McInerney entered into a "dissociative state" and was driven to a sudden irrational act by a violent upbringing and by what he felt as sexual harassment by King. Defense lawyers are asking that the jury be allowed to consider a charge of voluntary manslaughter instead of murder.
The Ventura County Star adds:
The prosecution is calling one more rebuttal witness, a psychologist who is expected to refute testimony by a psychologist the defense put on the stand. This means closing arguments in the trial could be heard in the next few days, and the jury would start deliberating shortly thereafter.