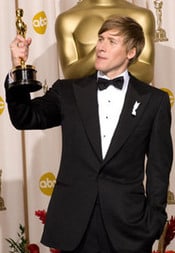 Producers for Dustin Lance Black's upcoming play, Prop 8, today announced some of the actors involved. And the list is impressive.
According to the Washington Post big Hollywood names Anthony Edwards, Morgan Freeman, Cheyenne Jackson, Christine Lahti, Rob Reiner, Yeardley Smith and Marisa Tomei will all participate in the play's one-night reading at the Eugene O'Neill Theater next month.
The play, which will be directed by Tony Award-winning Joe Mantello, is based on interviews and trial transcripts that came from the passage of California's Proposition 8, which, as we know all too well, prohibits same-sex marriage in that state.