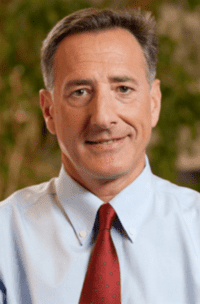 During his gubernatorial campaign last year, Vermont Democrat Peter Shumlin told lesbian couple  Michele "Mitch" Beck and Ann Beck that should he be elected, he personally would marry them.
Now that's he's firmly in office, Shumlin has made good on his word, the Washington Post reports:
The first-term Democrat presided over the marriage Wednesday of 55-year-old Michele "Mitch" Beck and 56-year-old Ann Beck, of Royalton. Shumlin led the push to legalize same-sex weddings in Vermont as a state lawmaker in 2009.
…
He paid $100 to the Secretary of State's office to be certified as a "temporary officiant," donned a crisp navy suit and did the honors.
Congratulations to the Becks on their nuptials — and thank you to Shumlin for all your support!