A petition urging the creators of Sesame Street to marry Ernie and Bert is receiving quite a bit of attention.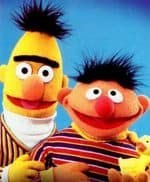 The Washington Post reports:
For years, viewers have speculated that Bert and Ernie, the lovable Sesame Street pair who share a bedroom, are gay. The show's creators have failed to indulge those speculations, even after some said Bert came out on the show's Twitter page, a video circulated that was said to prove their homosexuality, and parody articles were written about the duo quietly coming out in favor of same-sex marriage.
Jonathan Capehart adds: "Children look for reflections of themselves in the world around them. If a gay kid takes a gander at Bert and Ernie and feels a pang of familiarity, that's great. Whether the fuzzy fellas get married or not, at least that gay kid will be seeing a positive image that will bolster his budding self-image. And there's no harm in that."
The campaign, of course, also has the attention of NOM, which asks (without using the right-wing term lifestyle), "Do Muppets have an orientation?" Will NOM try to "protect" marriage from Muppets?
Check out the subtext-laden video referred to above, as well as the famous 'cookies in bed' segment, AFTER THE JUMP…