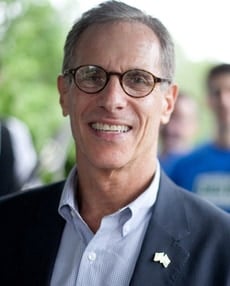 Republican presidential candidates will gather in Iowa next Thursday for a debate sponsored by Fox News.
While it's guaranteed that big-names like Mitt Romney and Michele Bachmann will be present, the cable network has reportedly decided to bar only gay candidate Fred Karger.
Hoping to bolster the odds of his inclusion, Karger has now sent a letter to Fox News executives, including Rupert Murdoch, as well as the state's Republican party, reminding them that he meets all of their qualifications.
Here's an excerpt from Karger's letter:
Dear All:

I am a declared Republican candidate for President of the United States who meets all of the requirements to participate in the Fox News Debate on August 11, 2011 in Ames Iowa.

Your criteria states:

Candidates must satisfy the following by 4 p.m. CDT on Tuesday, August 9, 2011

1. Registered with the Federal Elections Commission as a presidential exploratory committee or presidential campaign.

2. Meet all U.S. Constitutional requirements.

3. Garnered at least an average of one percent in five national polls based on most recent polling leading up to the registration day.
Karger also included new Harris Poll numbers that show he, like Tim Pawlenty and Jon Huntsman, has 2% of the vote, meaning that he's just as qualified as those higher-profile presidential hopefuls.
Fox News vice president Michael Clemente, however, appears to be sticking to his guns, and claims Karger's poll numbers still don't fit their prerequisites because they're online, interactive or out of date.