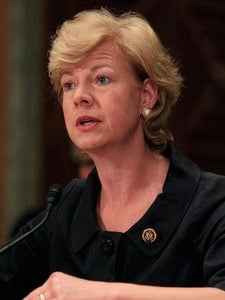 Russ Feingold told supporters that he will not run for the Senate seat soon to be vacated by Herb Kohl.
"While I may seek elective office again someday, I have decided not to run for public office during 2012," Feingold wrote in an email sent out this morning.
This is great news for voters who support openly gay Congresswoman Tammy Baldwin's potential Senate bid.
As Public Policy Polling reported this week, Feingold's move puts Baldwin at the top of the Democratic ticket in the Badger State: "If Feingold sits it out Tammy Baldwin is looking like the early favorite. In a three way race with Ron Kind and Steve Kagen she leads with 37% to 21% for Kind and 15% for Kagen. And in just a two way race with Kagen she leads 48-19."
So, who thinks Baldwin will — or should — run for Senate?