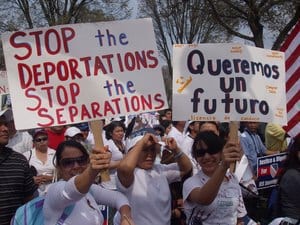 The Obama administration announced yesterday that immigration officials, guided by the Department of Homeland Security, can now use "prosecutorial discretion" to stop deportation for illegal immigrants who pose no threat to the nation.
While the move will largely benefit people who illegally entered the United States as children, Metro Weekly reports that the new policy will also help same-sex binational couples:
In response to a question from Metro Weekly about the impact of today's decision on same-sex couples, a second senior administration official said, "The prosecutorial discretion memo provides for the use of discretion for people with strong community ties, with community contributions and with family relationships. We consider LGBT families to be families in this context."

Asked specifically if that included same-sex couples, the official said, "Yes."
…
Attorney Lavi Soloway, whose work at Stop the Deportations has resulted in several couples where one partner was facing deportation having the deportation put on hold, called Napolitano's move ''historic.''

He told Metro Weekly, ''By undertaking a review of all pending deportation cases at the highest level and clarifying that existing prosecutorial discretion guidelines include LGBT families, Secretary Napolitano will now have the opportunity to stop every deportation involving a lesbian or gay binational couple.''
Though Obama and company will have to deal with GOP gripes that this is "backdoor amnesty," they will also now be under the progressive microscope as millions watch to see how the administration proceeds on binational same-sex couples.
Hopefully they'll move in the right — not "Right" — direction.