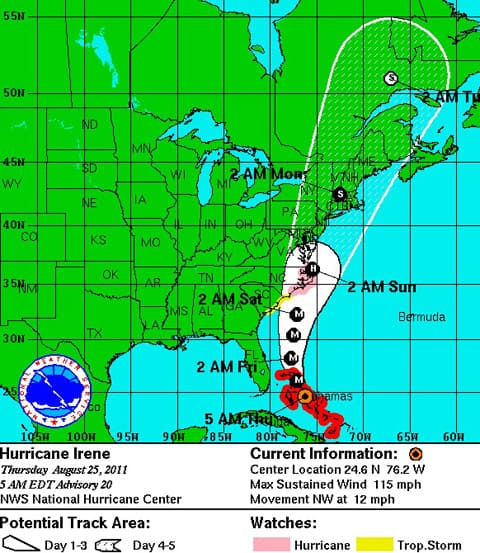 A 5am EDT update from the NWS moves Hurricane Irene's track over the outer banks of North Carolina and almost directly over New York City late Sunday. The track moved slightly westward from forecasts late yesterday.
Hurricane Irene is now on a path that could take it dangerously close to, if not over, the mid-Atlantic coastline and New York City on Sunday, posing a serious danger to millions of people. The AccuWeather.com Hurricane Center is confident that Irene will strike the Outer Banks of North Carolina Saturday evening as a strong Category 3 or Category 4 hurricane. Beyond that point, latest indications put Irene on a path extremely close to or over the mid-Atlantic coast and New York City before plowing into western New England….
…On its current forecast path, Irene would spread destructive hurricane-force winds (gusts between 80 to 100 mph) across the Delmarva coast, eastern New Jersey, New York City, western Long Island and southwestern New England. A track directly over Atlantic City, N.J., and New York City would bring these intense winds westward to Philadelphia. The strongest and most sustained hurricane-force winds will be measured in the immediate vicinity of Irene's center. Widespread tree damage, major power outages and structural damage to buildings and homes would ensue. Glass windows could shatter along the sides of New York City skyscrapers.
A path closer to NYC would also be more disastrous for homes along the coast of Long Island as a disastrous storm surge is likelier on the north and east sides of the storm's eye.
Take precautions.