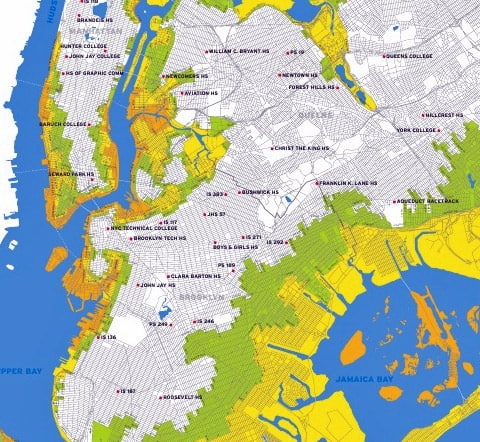 At a press conference this morning, NYC Mayor Michael Bloomberg updated New Yorkers on city preparations for Hurricane Irene.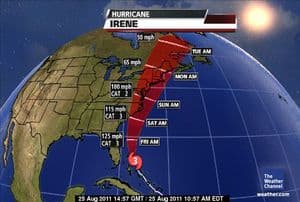 Said Bloomberg:
"If the worst scenario is going to happen this weekend, we will activate other elements of our Coastal Storm Plan, including the possibility of evacuating of New Yorkers who live in low-lying areas that could be affected by such storm surges. That includes places such as Coney Island and Manhattan Beach in Brooklyn, Far Rockaway and Broad Channel in Queens, South Beach, Midland Beach, and other low-lying areas on Staten Island, and Battery Park City in Manhattan….We don't yet have enough information yet to make that call. There are still too many unknowns, but we will make a decision on whether to call for evacuating certain areas based on the track, the speed, and the strength of the storm as it moves from the Bahamas up the east coast."
The city also released a flood map detailing potential at-risk areas for coastal flooding in the case of a major storm surge.
Check it out, AFTER THE JUMP…
Here are ten tips for those of you in major cities or on the storm's path to prepare yourselves.
New Jersey Governor Chris Christie has declared a state of emergency ahead of Irene's arrival.
Maryland officials are also on alert: "Irene will likely produce periods of torrential rain when it arrives, with totals of 4 to 6 inches or more anywhere from Ocean City to Baltimore and the rest of Central and Southern Maryland, forecasters said."
Evacuations have begun on the North Carolina coast. 200,000 have been told to leave.
Accuweather reports on other cities in the storm's projected path:
On its current forecast path, Irene would spread destructive hurricane-force winds (gusts between 80 to 100 mph) across the Delmarva coast, eastern New Jersey, New York City, western Long Island and southwestern New England. A track directly over Atlantic City, N.J., and New York City would bring these intense winds westward to Philadelphia.
The Weather Channel has a comprehensive look at the dangers posed to the Northeast by this storm. Their latest forecast HERE.
Watch, AFTER THE JUMP…