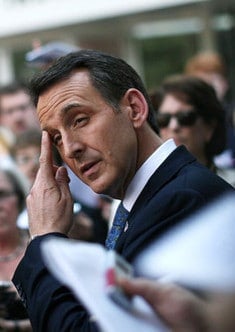 Tim Pawlenty has found himself in an awkward, though hilarious, feud with influential newspaper the Des Moines Register.
The paper last week published a profile on the Republican presidential candidate, a profile Pawlenty's campaign rapidly sent out to supporters.
Well, not that rapidly, because the former Minnesota governor's team took the time to first completely remove any negative tidbits from the original Register article, including an anecdote in which Pawlenty pulled down a colleague's pants during a softball game.
Offended by the Pawlenty campaign's blatant reedit, the Register late Friday published an editorial rebuke highlighting the Pawlenty camp's willful omissions.
The campaign left out the first two paragraphs of the article, which quoted a friend describing how Pawlenty, then a Minnesota state legislator, sneaked up and yanked down the fellow lawmaker's pants as he stood at home plate during a baseball game a decade ago.

The campaign also deleted all references to how the former Minnesota governor raised the cigarette tax, allegedly ousted Republicans from the party for overriding one of his vetoes and used his executive powers in a way the Minnesota Supreme Court ruled unconstitutional.

The edited version removed all criticisms from fellow Republicans that raised questions about how he balanced the state's budget and a classmate's comment that his fantasy football teams were terrible.
Now, I can understand a candidate wanting to remove the pantsing story — that makes him seem childish — and exorcising the specter of unconstitutional governance certainly makes sense, but are fantasy football scores really a make or break election issue? Maybe for some…
Anyway, in the interest of free press, I've included the first two paragraphs of the Register story, the two paragraphs that address what the paper refers to as the "de-pantsing incident," AFTER THE JUMP…
Via the Des Moines Register:
Then-House Speaker Steve Sviggum stood at the plate during Minnesota's annual House-Senate softball game a decade ago when Tim Pawlenty, then a suburban legislator, sneaked up and yanked down his pants.

"There's press all around, all these senators are all around, and I'm standing there with my softball pants around my knees," said Sviggum, a close friend of Pawlenty. "Luckily I was wearing some shorts."
Hmmm. This makes me wonder, what's the male equivalent of a "nip slip?"