The jury got the case on Friday, and more deliberations are expected today, the AP notes: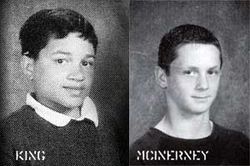 "Jurors began their discussions on Friday to determine whether 17-year-old Brandon McInerney is guilty of first-degree murder in the slaying of 15-year-old Larry King at E.O. Green Junior High School in Oxnard. The panel is expected to deliberate for only a couple of hours because a juror has a prior commitment…McInerney has pleaded not guilty to one count each of murder and a hate crime. If convicted, he faces more than 50 years in prison. Jurors also can consider a conviction of voluntary manslaughter, which carries a maximum 21-year term."
I'll post as soon as we get any news about a decision.