Closing arguments should end today in the trial of Brandon McInerney, charged with killing his gay classmate Lawrence King in 2008. Prosecutors argued for a murder conviction, and not the lesser manslaughter conviction the judge allowed earlier this week. Defense attorneys brought  a "gay panic" defense, arguing that McInerney snapped after he was sexually harassed by King.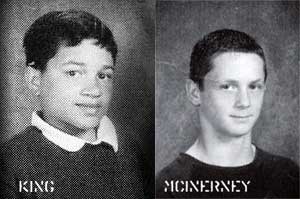 Prosecutor Maeve Fox made her closing arguments in the murder trial of Brandon McInerney yesterday, the AP reports:
Using McInerney's own words via an interview with a psychologist, Fox said during closing arguments that the teen became enraged after Larry passed him in the hallway in February 2008 and made what he believed was the ultimate insult.
McInerney, then 14, made a conscious decision to kill King the next day, telling a friend he planned to shoot his classmate, she said. He hid a gun in his backpack and brought it to E.O. Green Junior High School in Oxnard, where he shot King twice in the back of the head, a "cold-blooded execution," the prosecutor said.
"He intentionally got that gun; he told people what he was going to do," Fox said. "He shot and killed an innocent person."
Defense Attorney Scott Wippert began his closing argument, which will continue today:
In his closing argument Thursday, lawyer Scott Wippert said his client Brandon McInerney didn't have problems with Larry King until King started wearing makeup, high heels and began sexually harassing him in the weeks leading up to the shooting. Wippert also blamed school administrators for not addressing the simmering feud between the boys.
"We're not saying Larry King is a terror, a bad kid, but the adults should have stopped this behavior," Wippert said…
…Defense attorneys do not deny McInerney killed King, but they contend their client came from a violent upbringing. They say he snapped when he heard moments before the shooting that King wanted to change his first name to Latisha.