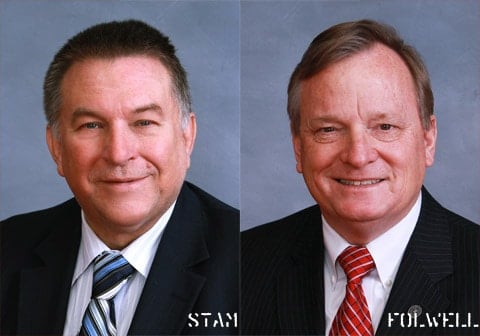 North Carolina Speaker Pro Tempore Dale Folwell and House Majority Leader Paul Stam held a press conference today to discuss their desire to place a constitutional amendment banning same-sex marriage, WSOC reports:
"We need to put the decision to the people so that they can define what marriage is, and not us," Speaker Pro Tempore Dale Folwell, R-Forsyth, said at a news conference. "Why shouldn't the people of North Carolina have the right to vote on something as important as this issue?"
State law already defines a valid marriage as one "created by the consent of a male and female person," and a 1996 state law says same-sex marriages sanctioned in other states are invalid in North Carolina. House Majority Leader Paul Stam, R-Wake, said etching the ban in the constitution would protect the law from legal challenges.
The presser presented the opportunity  for "narrow-minded, backward-looking and mean-spirited ignorance of the lowest order," Progressive Pulse writes:
 According to Stam:
If same sex marriage is allowed, it will lead "next" to legalized "adult incest" and polygamous marriages since there's no way to argue logically for same sex marriage and against state authorization of those other practices; "Morality" and "biology" dictate that same sex marriage be proscribed; Sexual orientation is a "choice."; Same sex marriage will prove disastrous for all of our children and society generally because it will lead to the inevitable demise of marriage as an institution.; and All social science" demonstrates that it's best to be raised in a marriage that features one man and one woman.
Said Stam, according to OnTop:
When asked by a reporter whether the amendment was "a reach of government into the individuals' lives?" Stam answered: "Well 90 percent of all laws affect people's lives, so that's an argument without any content to it. … We prohibit adult incest, we prohibit polygamy. What would be their answer to that? We're involved in people's lives. That's a slogan without analysis."
Listen to some of Stam's remarks comparing same-sex marriage to incest and polygamy, AFTER THE JUMP…