NOM will be facing a major uphill battle in efforts to overturn New York's marriage equality law, according to a new NY!/Marist poll released today, CNN reports: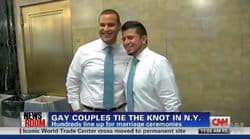 According to a NY1/YNN-Marist poll released Wednesday, about 55 percent of voters favor same-sex marriage in the Empire State, while 37 percent are against it. And while opponents filed a lawsuit in late July to overturn the new law, about six in 10 voters statewide said they want to keep same-sex marriage legal.
When looking at political party affiliation, 72 percent of Democratic voters believe the law should stay in place, while Republicans are divided between 48 percent of those who want it overturned and 47 percent who think it should remain in effect. The poll reveals age differences, as well. About 62 percent of those under the age of 45 support the law, compared to about half of New Yorkers older than 45 who said they support it.
Read the full poll, AFTER THE JUMP…