Virginia Del. Adam Ebbin won his Democratic primary last night in the race for state senate, placing him in position to become that state's first openly gay state senator, the Victory Fund reports: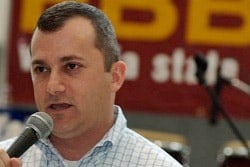 Originally elected in 2003 and sworn into office in 2004, Adam Ebbin was the first openly LGBT person elected to the Virginia State Legislature. He went on to win reelection in 2005, 2007 and 2009 before deciding to run to bring his authentic voice to the State Senate.
Victory Fund President and CEO Chuck Wolfe said of this historic victory:
Given his heavily Democratic district, Adam Ebbin's primary victory all but assures that he will become the first out Virginia State Senator. This is an incredible milestone for the LGBT community and is further proof that voters today see LGBT people as just as committed to their communities as any other public servant.
Ebbin is the only out member of the Virginia legislature.
MetroWeekly adds: "Ebbin secured the Democratic nomination — winning (with one precinct not reporting) by just more than 300 votes out of more than 11,000 cast. Close behind Ebbin was Alexandria City Council member K. Rob Krupicka. Arlington School Board member Elizabeth Garvey came in third."