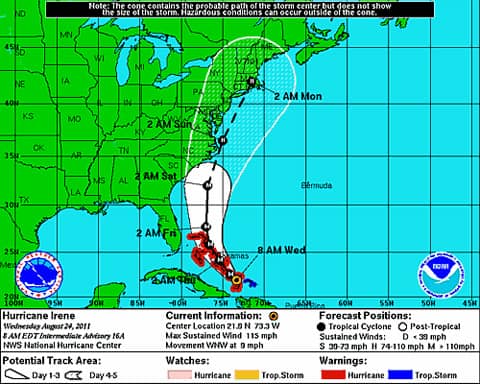 The 8 am EDT NOAA update on Hurricane Irene has upgraded it from a Category 1 to a Category 3 storm with maximum sustained winds of 115 mph.
Accuweather reports:
Irene will likely then strengthen into a powerful Category 4 hurricane during its dangerous assault on the Bahamas into Thursday. After leaving the Bahamas, Irene will take aim at the North Carolina Outer Banks and New England this weekend. Florida and Georgia will be spared in the process. Such a path bears similarities to the track taken by Hurricane Bob in 1991, the last hurricane to make landfall in New England.
Then later this weekend:
The AccuWeather.com Hurricane Center is expecting Irene to slam into eastern New England as a Category 1 hurricane late on Sunday or Sunday evening, accompanied by damaging winds and a flooding storm surge. Torrential rainfall will arrive much sooner and overspread the mid-Atlantic prior to the New England landfall, threatening to cause widespread flooding problems.
Please take precaution if you are in one of the affected areas.