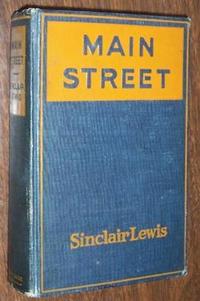 I have spent a good chunk of my past month working through Sinclair Lewis' 1920 novel, Main Street.
It is an excellent book and I highly recommend you, reader, take a gander at the tale of a "big city" girl who moves to a small American town.
If you have no interest or time, however, I would like to highlight a small passage from the novel: the entrance of pivotal character Erik Valborg, who the townspeople paint as a "freak" for his effeminate manner.
I've included the passage below. It really speaks volumes about how discrimination against perceived homosexuality has been a plight on our society for far too long. Without spoiling too much, Erik is not gay.
Well, not yet — I have about 75 pages left, so maybe he'll "turn"?
Read the excerpt, AFTER THE JUMP…
Carol was fond of Maud Dyer, because she had been particularly agreeable lately; had obviously repented of the nervous distaste which she had once shown. Maud patted her hand when they met, and asked about Hugh.
Kennicott said that he was "kind of sorry for the girl, some ways; she's too darn emotional, but still, Dave is sort of mean to her." He was polite to poor Maud when they all went down to the cottages for a swim. Carol was proud of that sympathy in him, and now she took pains to sit with their new friend.
Mrs. Dyer was bubbling, "Oh, have you folks heard about this young fellow that's just come to town that the boys call 'Elizabeth'? He's working in Nat Hicks's tailor shop. I bet he doesn't make eighteen a week, but my! isn't he the perfect lady though! He talks so refined, and oh, the lugs he puts on–belted coat, and pique collar with a gold pin, and socks to match his necktie, and honest–you won't believe this, but I got it straight–this fellow, you know he's staying at Mrs. Gurrey's punk old boarding-house, and they say he asked Mrs. Gurrey if he ought to put on a dress-suit for supper! Imagine! Can you beat that? And him nothing but a Swede tailor–Erik Valborg his name is. But he used to be in a tailor shop in Minneapolis (they do say he's a smart needle-pusher, at that) and he tries to let on that he's a regular city fellow. They say he tries to make people think he's a poet–carries books around and pretends to read 'em. Myrtle Cass says she met him at a dance, and he was mooning around all over the place, and he asked her did she like flowers and poetry and music and everything; he spieled like he was a regular United States Senator; and Myrtle–she's a devil, that girl, ha! ha!–she kidded him along, and got him going, and honest, what d'you think he said? He said he didn't find any intellectual companionship in this town. Can you BEAT it? Imagine! And him a Swede tailor! My! And they say he's the most awful mollycoddle–looks just like a girl. The boys call him 'Elizabeth,' and they stop him and ask about the books he lets on to have read, and he goes and tells them, and they take it all in and jolly him terribly, and he never gets onto the fact they're kidding him. Oh, I think it's just TOO funny!"
The Jolly Seventeen laughed, and Carol laughed with them. Mrs. Jack Elder added that this Erik Valborg had confided to Mrs. Gurrey that he would "love to design clothes for women." Imagine! Mrs. Harvey Dillon had had a glimpse of him, but honestly, she'd thought he was awfully handsome. This was instantly controverted by Mrs. B. J. Gougerling, wife of the banker. Mrs. Gougerling had had, she reported, a good look at this Valborg fellow. She and B. J. had been motoring, and passed "Elizabeth" out by McGruder's Bridge. He was wearing the awfullest clothes, with the waist pinched in like a girl's. He was sitting on a rock doing nothing, but when he heard the Gougerling car coming he snatched a book out of his pocket, and as they went by he pretended to be reading it, to show off. And he wasn't really good-looking–just kind of soft, as B. J. had pointed out.
When the husbands came they joined in the expose. "My name is Elizabeth. I'm the celebrated musical tailor. The skirts fall for me by the thou. Do I get some more veal loaf?" merrily shrieked Dave Dyer. He had some admirable stories about the tricks the town youngsters had played on Valborg. They had dropped a decaying perch into his pocket. They had pinned on his back a sign, "I'm the prize boob, kick me."
Glad of any laughter, Carol joined the frolic, and surprised them by crying, "Dave, I do think you're the dearest thing since you got your hair cut!" That was an excellent sally. Everybody applauded. Kennicott looked proud.
She decided that sometime she really must go out of her way to pass Hicks's shop and see this freak.