Police are not investigating last Friday night's beating death of Waterloo, Iowa teen Marcellus Andrews as an anti-gay hate crime despite the fact that a feminization of his first name and the word "faggot" were reportedly used during the beating, the Des Moines Register reports: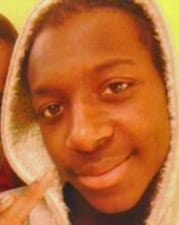 However, authorities don't believe the killing was a hate crime, said Lt. Michael McNamee, Waterloo police spokesman. "We've done multiple interviews and we have heard those allegations, but this was not because of his persuasion or the perception of his persuasion," McNamee said. "These were all people who knew each other, and there was some bad blood between the two parties involved."
The disputes date back at least a year, and arguments escalated throughout Thursday and involved a vehicle being vandalized, McNamee said. "It all culminated in that area early Friday morning," McNamee said.
Suspects have been identified in the case, but no arrests have been made, and no warrants have been sought, according to police.
An autopsy has confirmed that Andrews died of blunt force trauma to the head.
The Iowa Independent reports on the many vigils that are taking place in Andrews' memory:
Of the numerous vigils and demonstrations being planned, one is taking place in Cedar Rapids, a community roughly midway between the location of the attack and Andrews' later death.
"In this time of political knashing and fighting for human rights … I think it's time that our community says we are not going to stand by and watch this happen ever again … and mainly to stand in solidarity with our community to the north and most of with friends and family of Marcellus," wrote the organizer of the Cedar Rapids Thursday evening candlelight vigil. The vigil, which will include a few brief statements, is slated for 8:30 to 10 p.m. at the Tree of the Five Seasons, near the 1st Avenue Bridge in downtown Cedar Rapids.
Another Facebook posting by Iowa Gay Advocacy asks for porch lights throughout the state and nation to be left on in memory of Andrews Thursday evening. A third page devoted to the memory of Andrews holds messages of condolences and shock.
Previously…
Police Question Hate Crime Motive in Fatal Anti-Gay Attack on Marcellus Andrews, but Friends Don't [tr]
Iowa Teen Beaten to Death in Anti-gay Mob Attack [tr]