The White House has named Raul Alvillar, currently the associate director for public engagement at the Office of the Vice President, as interim LGBT liaison replacing Brian Bond, the Washington Blade reports: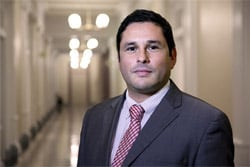 "Following Brian's departure from the White House to his new position at the DNC, we will have a full-time liaison to the LGBT community in the Office of Public Engagement in October," [White house spokesman Shin] Inouye said. "In the interim, Raul Alvillar from the Office of the Vice President will serve as the point of contact for the LGBT community for OPE."
Alvillar, 33, served for two-and-a-half years as the congressional relations officer for the Department of Housing & Urban Development. During the 2008 presidential campaign, Alvillar was western political director for Obama and assisted with LGBT outreach and LGBT super delegates at the 2008 Democratic National Convention.
The Blade adds: "It's unclear from the statement given by the White House whether Alvillar, or his permanent successor, will have the same role as Bond or if the position will be modified. Some LGBT advocates have been calling for the appointment of a more senior LGBT adviser who could more directly and consistently counsel Obama on LGBT issues."