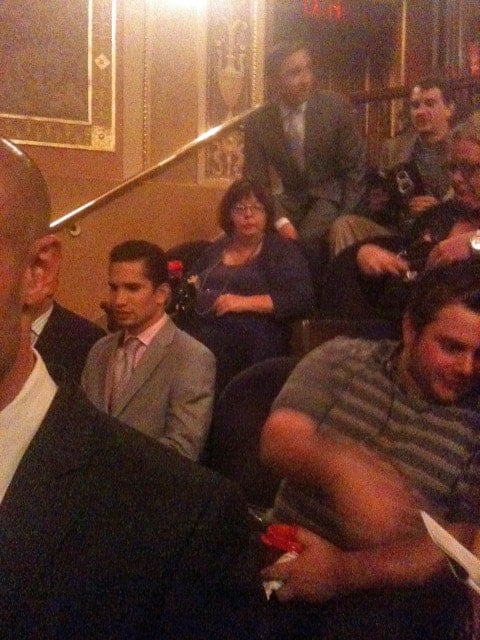 So, I attended last night's wonderful staged reading to a packed house of Dustin Lance Black's '8', the dramatization of the federal case in California against Proposition 8, which took marriage rights from gay and lesbian Americans.
The play featured all the major characters from the courtroom drama. John Lithgow as Ted Olson, Morgan Freeman as David Boies, Bradley Whitford as Prop 8 proponents' attorney Charles Cooper, and the wonderful Jayne Houdyshell as Maggie Gallagher.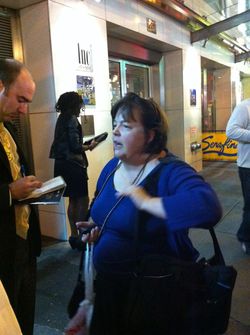 Yet the real Gallagher sat up in the balcony (above), apparently having bought a ticket to the benefit. She sat and watched as the drama of the trial played out (she had seen it before, she had participated in it) — and it became clear that Prop 8 proponents had not a shred of evidence to back their claims that same-sex marriage would in some way harm the institution of marriage. The script, brilliantly delivered by the actors, is no fiction. It's all there, in the original transcript of the trial.
So what could Gallagher have hoped to glean from her perch in the balcony? Perhaps she was finally enlightened last night, that her mission is flawed and hateful, that it is futile, that what she has been working for for years destroys families, hurts children, and is ultimately un-American?
I fear that she did not. I fear that what was behind her motivation to sit there and watch her words come out of Houdyshell's mouth was some sort of ego stroke, a pat on the back, a motivational fuel for her anti-gay engine.
Afterward, she certainly seemed to enjoy the attention she was getting just outside the theatre, even though much of it was negative. In the right hand photo she's smiling, even as activist Corey Johnson gives her a piece of his mind.
And she obviously knew she was coming for a show. My friends Phil and Ronald sat directly in front of her. You can see Ronald in the top photo. They had a hard time listening to the show because along with her nerve, Ms. Gallagher brought a large plastic bag of loud food, which she rustled and munched throughout the production (she's still got it on the way out). Perhaps she thought it was a popcorn flick she was going to. In any case, someone should have told her that it's rude, perhaps even against the rules, to eat in the theatre. But we already know what Gallagher and her organization think of rules.
The one bright spot is that Gallagher, who presumably purchased her ticket, is now officially a supporter of the American Foundation for Equal Rights.
(top photo by josh meltzer, photos middle, and below by andy towle)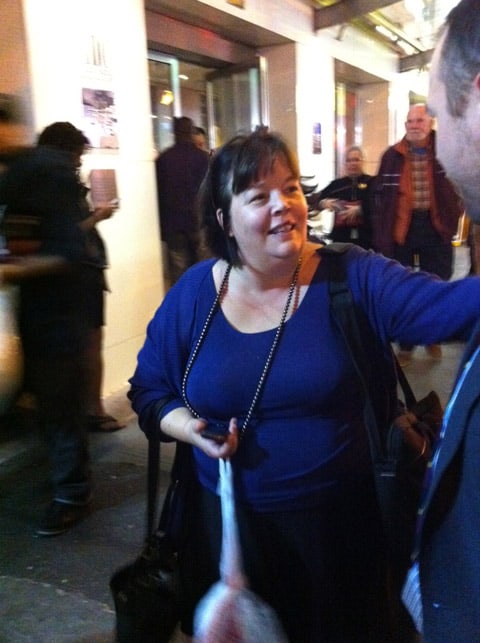 In any case, most didn't know about Maggie's presence in the balcony until after the show, if at all.
Much of the production itself was taken directly from trial transcripts, and was delivered handily by a talented, generous cast, as I've reported before:
Emmy and Tony Award winner and two-time Golden Globe Award nominee Ellen Barkin; Tony Award nominee Jayne Houdyshell; Broadway star Kate Shindle; and two-time Tony Award winner Stephen Spinella will appear in the world premiere of "8" on Broadway, joining the previously announced Bob Balaban, Matt Bomer, Campbell Brown, Anthony Edwards, Morgan Freeman, Cheyenne Jackson, Larry Kramer, Christine Lahti, John Lithgow, Rory O'Malley, Rob Reiner, Yeardley Smith and Bradley Whitford. The cast of "8" will also feature Tony Award nominee K. Todd Freeman, Jay Armstrong Johnson, Ken Leung and Ben Rosenfield.
Here's the AP's write-up of the show.
Nothing plays like reality, except when reality is delivered by a bunch of acclaimed Tony, Emmy, and Oscar winners. Dustin Lance Black did a brilliant job of adapting the transcript, interspersing it with screenings of the awful (and often laughable) "Yes on 8" ads from the campaign.
I have not heard how much was raised. A lot, I hope. There's more work to be done.
Here's a cast photo from AFER, by Diane Walker: