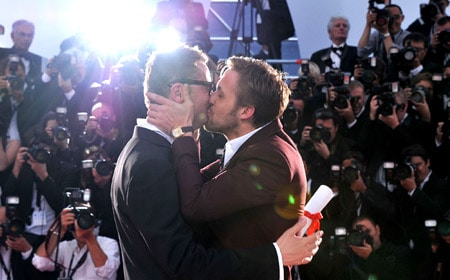 Ryan Gosling Plants One On His "Drive" Director. As Well He Should.


NATHANIEL ROGERS
…would live in the movie theater but for the poor internet reception. He blogs daily at the Film Experience. Follow him on Twitter @nathanielr.
 
YOUR FEATURE PRESENTATION
Dear Readers,
Go see DRIVE this weekend. It's the only sensible decision.
Sincerely, Nathaniel
You're just going to have to trust me on this one because I'd also urge you not to read any reviews before plunking down the cash. Yeah, I'm bossy. It's better to know nothing about Drive beforehand. The movie won't even give you its protagonists name (he's simply 'the driver' or 'the kid') so don't go digging for info you don't need. I will always be grateful that I saw it "cold". After you've seen it, you'll want to read the reviews anyway. Drive, which erases any lingering doubts (were there any?) that Ryan Gosling is the most exciting young movie star on this side of the Atlantic, also won the best director prize at the Cannes Film Festival for Nicolas Winding Refn. He's already hinting at another movie with Gosling and after Drive they'd be crazy not to bottle lightning twice.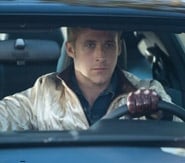 Drive is just one of those movies, the kind that unfold with such individuality and confidence and sense of possibility that you can almost imagine the celluloid standing up and strutting right past you, knowing full well you're going to turn and look. Yeah, I'm hot shit, it might say, if it weren't so obviously the strong and silent type.
ALSO OPENING
James Marsden tries to fill Dustin Hoffman's shoes in the remake of 70s classic STRAW DOGS co-starring Alexander Skarsgård. Some critics are mad that the new version predictably dumps the smarter meatier elements and subtext for standard thrills but at least Roger Ebert likes it; THE LION KING returns to the big screen for just two weeks in 3-D and they say it's just beautifully retro-fitted. But all moviegoers must ask themselves this question before purchasing a ticket "Can I sleep at night if I continue to enable Hollywood's 3D addiction?"; Two buzzy horny foreign films, Germany's "3" about a straight couple that both fall in love with the same man (from Run Lola Run director Tom Tykwer) and Norway's Oscar submission HAPPY HAPPY a marital sex comedy are opening on both coasts;
Finally… SJP is back! (Not that she ever goes away). MORE AFTER THE JUMP…
Sarah Jessica Parker's new comedy is called I DON'T KNOW HOW SHE DOES IT. The title is so star-flattering and boastful that you can almost visualize the improbable super star handling kindling and matches and gasoline and maybe a rope to tie her to a stake with directly to her army of haters. Is she a secret masochist? The title alone is surely enough to piss them off. I haven't yet seen it but, as with Madonna and other polarizing divas, you have to carefully parse response and reviews and immediately eliminate all opinions from people who will always have it in for that particular goddess. 
BONUS SCENES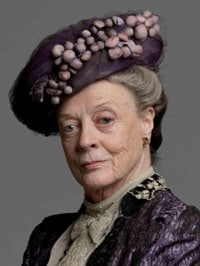 The Emmy Awards are Sunday night! And Downton Abbey, Mildred Pierce's only real competition for Best MiniSeries, is returning soon. Will you be watching? I'll be liveblogging and tweeting the awards and I'm rooting for that absolutely addictive series. Any fans of Downton Abbey in the house? It's so  entertaining that you barely mind that the gay character is so irredeemably evil. OMG Blog has the trailer for Season 2 and The Awl hilariously teaches you how to make a dowager hat should you ever dream of dressing up as Maggie Smith for your next costume party. 

Here's a fine interview with the director of Shame, the sex addiction drama starring Michael Fassbender that's been setting festivals on fire. The film will open later this year… we're guessing NC-17 given its explicit nature.

And since it's Auteur Season here's an interview with the great Pedro Almodóvar on his work, his legendary relationships with his actress muses, and his new film The Skin I Live In with Antonio Banderas.

Are you excited for the Newsies musical that's coming to the stage? Didn't you love it when Christian Bale sang that "Santa Fe" number? Swoon. Let's hope someone great got that role.

Ugh. Doesn't Ryan Gosling read his rave reviews? Why does he keep threatening to quit movies? He says he won't make movies once he's making babies. Would it be improper to suggest sterilization? The movies need him!