Could Ireland soon have a gay President? It appears that way.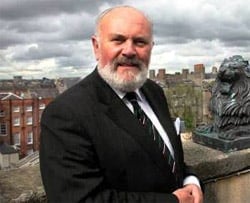 Sen. David Norris, who left the race in August following the disclosure of letters to Israeli authorities asking for clemency for a former partner in a statutory rape case, is back, in and leading the pack, CNN reports:
Sen. David Norris completed an extraordinary comeback Tuesday, securing the political backing he needed to get onto the ballot after withdrawing over a sex scandal in August, then changing his mind and jumping back into the race.
He leads the field, according to an opinion poll published in the Sunday Business Post this week, followed by Michael D. Higgins of the Labour Party and McGuinness, the Sinn Fein politician who stepped down as deputy first minister of Northern Ireland to run for president of the republic….
…Norris — tipped to be the country's first openly gay head of state — got onto the ballot, thanks to an 11th-hour intervention by his rival Higgins.
Ahead of a vote by Dublin city councilors, Higgins recommended to Labour colleagues they facilitate the entry of Norris to the presidential race "in the interests of democracy."
There are seven candidates in the election, which takes place October 27.