A court has issued a suspended sentence to designer John Galliano over two incidents in which he made anti-Semitic remarks at a Paris bar, the AP reports: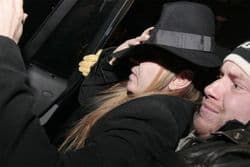 Galliano, who didn't attend the announcement of the verdict, was given no prison time. He was given a suspended €6,000 ($8,400) fine, which means it goes on his criminal record but he does not have to pay it. He was, however, ordered to pay €16,500 ($23,200) in court fees for the complainants — three individuals and five anti-racism associations — plus a symbolic €1 ($1.40) in damages to each one. The Paris court found him guilty of "public insults based on origin, religious affiliation, race or ethnicity" stemming from two separate incidents at a Paris bar.
Dior fired Galliano in March over the incidents.
Previously…
Watch: John Galliano Mobbed at Paris Court, Condemed by Portman [tr]
Watch: Dior Designer John Galliano Proclaims 'I Love Hitler' [tr]
Galliano Files Defamation Lawsuit Against Couple He is Accused of Attacking [tr]
Dior Designer John Galliano Arrested in Paris for Drunken, Anti-Semitic Assault [tr]