Days after vowing she would meet with the President over the bullying suicide of Jamey Rodemeyer, Lady Gaga paid to attend a $35,800 per couple fundraiser at the home of Facebook chief operating officer Sheryl Sandberg last night, according to a White House press pool report: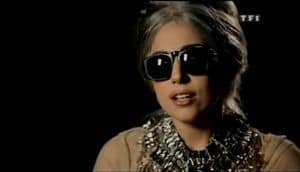 At 8pm pool was brought through the house, where Poker Face by Lady Gaga was playing, and into a white party tent set up in the back of the house. There were 7 large round tables – three on each side and one square in the middle in front of a small open space with an American and California state flag set up, where President Obama spoke.
At 8:03 pm Lady Gaga entered… delicately walking on sky-high heels (she towered over everyone, a good 2 feet taller than POTUS). She was wearing a floor-length sleeveless lacey black dress, her blonde hair was gathered in a bouffant up-do adorned with a black hair piece with a black veil down the back, which she swept to the side and in front of her left shoulder. (The hair added about 6 inches to her stature). She took a seat at the middle table in the tent and stood up with the other guests when POTUS entered a few minutes later.
Event was print pool only so no press photos.
POTUS spoke for about 8 minutes, with Lady Gaga sitting front and center. And although he never acknowledged her obvious presence, it seems likely the two crossed paths during greetings inside the house before the dinner.
ABC News has more:
According to a source present in the tent fundraiser, Gaga asked a question during the Q&A. She first thanked the president for what he's accomplished, then read from what she said was a letter from a fan about the suicide of another fan who had been subjected to bullying. She thanked Obama for hosting his anti-bullying conference with Michelle Obama, and then made a general plea to everyone in the room, including the president, to do what they can to prevent bullying. Obama thanked her, spoke about his administration's anti-bullying campaign, and then more generally about the importance of values and who we are as Americans. Before the dinner, Gaga came through the photo line with her manager. She and Obama reportedly spoke for two minutes, with many others in the room.
Gaga dedicated a performance of "Hair" to Rodemeyer over the weekend at an IHeartRadio concert. Watch the performance, in which she notes "bullying is for losers", HERE.