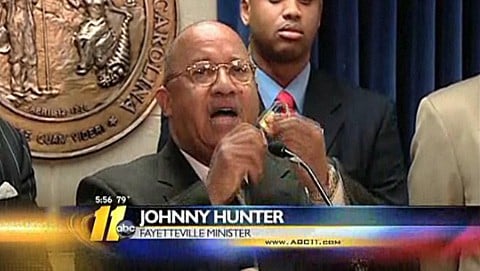 Things are getting "downright ugly" in North Carolina ahead of a special session of the General Assembly next week devoted to constitutional amendments, including a proposal to ban same-sex marriage, WTVD reports.
Democrats and Republicans have been holding separate press conferences on the issue, while they're not getting in each other's faces in the hallways of the legislature. At the GOP press conference, Fayetteville pastor Johnny Hunter spoke, holding up a lock and key to demonstrate why such an amendment should pass.
Said Hunter: "The anatomy is not right for a homosexual to even consummate a marriage. What it takes to consummate a marriage is a lock and a key."
Watch, AFTER THE JUMP…