After swiftly pushing the measure through a House Rules Committee and on to the floor, the North Carolina House today passed a constitutional amendment that would ask voters to ban marriage, civil unions, domestic partnerships and other relationship recognition for same-sex couples on the May 2012 ballot, Q Notes reports: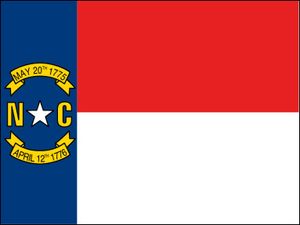 The newest version of the amendment, SB 514, moves the ballot date from November 2012 to the primary election in May 2012. Speaker of the House Thom Tillis (R-Mecklenburg) said the date change was a way to "remove politics" from the issue.
"What we're trying to do is respect the concerns of some who felt like this was purely politically-motivated," Tillis said at the press conference. "I decided, consulting with a number of people, and we decided that this was the most acceptable form. It was a discussion that involved both chambers. There are some members who were inclined to support the bill and did feel like political considerations were an issue that might cause them not to vote for something they would otherwise support."
GOP leaders had come under fire for placing the amendment on the ballot during next year's presidential elections. Critics said they were merely attempting to increase conservative voter turnout.
A Senate committee is expected to take up the measure quickly, and it is expected to pass.