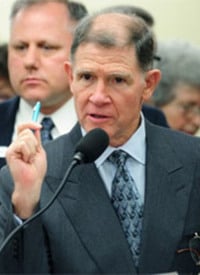 Harris Himes, the self-proclaimed pastor and all-around homophobe charged with theft and fraud, among other things, called into a local Montana radio station after being released from jail yesterday to defend himself.
Well, actually, it was less of a defense and more of an offense against his ideological opponents, whom he claims set him up.
From The Missoulian, via J.M.G:
[Himes] didn't keep a low profile after leaving the Ravalli County jail…

Peter Christian of KGVO radio's "Talkback" show mentioned the charges against Himes on Thursday morning and Himes called in to respond. He told Christian he is an attorney, but knows better than to represent himself. Himes went on to claim that gay and pro-abortion activists may be behind the charges against him and co-defendant James "Jeb" Bryant, another self-proclaimed pastor.

Himes further claimed that State Insurance Commissioner Monica Lindeen may also be behind the charges because of political disagreements they've had in the past.
Himes and Bryant are accused of bilking an investor out of $150,000 to fund a fake business.