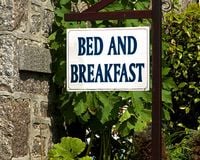 Two gay men, Todd and Mark Wathen, wanted to hold their civil union ceremony in a bed-and-breakfast in Illinois. Their wish was denied, twice, because bed-and-breakfasts are pillars of straightness: 
The Beall Mansion in Alton told the Wathens via email that it "will just be doing traditional weddings." The owner of the Timber Creek Bed and Breakfast in Paxton wrote in an email to the couple: "We will never host same-sex civil unions. We will never host same-sex weddings even if they become legal in Illinois. We believe homosexuality is wrong and unnatural based on what the Bible says about it. If that is discrimination, I guess we unfortunately discriminate."

"After all this happened, I just didn't even want to talk about the wedding," said Todd Wathen. "It took an event we had looked forward to for years and ruined it."
After the couple filed a complaint, the state's human rights commission found "substantial evidence" of a civil rights violation. Now the couple is suing. 
But attorneys for the establishments say they were exercising freedom of religion. With bed-and-breakfasts becoming culture-war battlegrounds in similar disputes across the country, this case could be major – the Brown v. Board of Education of bed-and-breakfasts.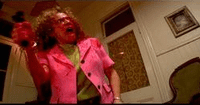 UPDATE: Maybe the two should just be thankful they were rejected. If the 2006 film Gay Bed and Breakfast of Terror taught us anything, it's to always avoid bed-and-breakfasts run by googly-eyed homophobes. It's not just the false hospitality – it's being hunted.