Frnak Mugisha, a 29-year-old activist whose work has drawn attention to the plight of LGBT people in Uganda, is being recognized by the Robert F. Kennedy Center for Justice & Human Rights: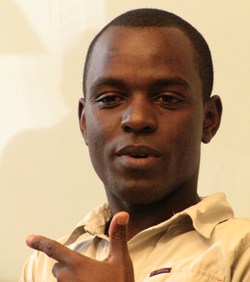 Frank Mugisha, a prominent young advocate for the rights of sexual minorities in Uganda, has been chosen to receive the prestigious Robert F. Kennedy Human Rights Award. Mr. Mugisha is the Executive Director of Sexual Minorities Uganda (SMUG), a leading organization of the lesbian, gay, bisexual, transgender, and intersex (LGBTI) movement in the East African country…
…"Frank Mugisha's unbending advocacy for gay rights in Uganda in the face of deep-rooted homophobia is a testament to the indomitability of the human spirit," said RFK Human Rights Award Judge Dean Makau Mutua, Professor of Law and Dean of the University at Buffalo Law School (SUNY).
…"Frank Mugisha has fought courageously in support of the rights of sexual minorities in Uganda, despite death threats and even exile," said Kerry Kennedy, president of the Robert F. Kennedy Center for Justice and Human Rights. "He has become a leading advocate for sexual minorities in a country where they are persecuted, jailed, and their lives destroyed. We are proud at the RFK Center to begin our partnership with Mr. Mugisha to advance his invaluable work within this movement."
Mrs. Robert F. Kennedy and Senator John Kerry will present Mugisha with the award at a ceremony on November 10th at the Kennedy Caucus Room of the Russell Senate Office Building.