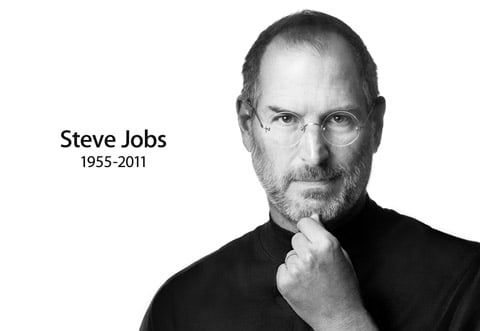 Apple founder Steve Jobs has died, the company reports:
"Apple has lost a visionary and creative genius, and the world has lost an amazing human being. Those of us who have been fortunate enough to know and work withSteve have lost a dear friend and an inspiring mentor. Steve leaves behind a company that only he could have built, and his spirit will forever be the foundation of Apple."
The company also released the following statement:
"We are deeply saddened to announce that Steve Jobs passed away today. Steve's brilliance, passion and energy were the source of countless innovations that  enrich and improve all of our lives. The world is immeasurably better because of Steve. His greatest love was for his wife, Laurene, and his family. Our hearts go out to them and to all who were touched by his extraordinary gifts."
Jobs' family released a statement:
Steve died peacefully today surrounded by his family.
In his public life, Steve was known as a visionary; in his private life, he cherished his family. We are thankful to the many people who have shared their wishes and prayers during the last year of Steve's illness; a website will be provided for those who wish to offer tributes and memories.
We are grateful for the support and kindness of those who share our feelings for Steve. We know many of you will mourn with us, and we ask that you respect our privacy during our time of grief.
Jobs underwent surgery for pancreatic cancer in 2004, and received a liver transplant two years ago. He stepped down for his CEO role at Apple at the end of August.
At a 2005 commencement address at Stanford University, Jobs shared the philosophy that drove him.
"Your time is limited, so don't waste it living someone else's life," Jobs said. "Don't be trapped by dogma — which is living with the results of other people's thinking. Don't let the noise of others' opinions drown out your own inner voice. And most important, have the courage to follow your heart and intuition. They somehow already know what you truly want to become. Everything else is secondary."
Watch Jobs' 2005 commencement address, AFTER THE JUMP…