The battle for the gay vote in the San Francisco mayoral race is getting a bit ugly as four former officials, speaking anonymously, say that City Attorney Dennis Herrera was an "obstruction" to then mayor Gavin Newsom's decision to marry same-sex couples in 2004, the SF Chronicle reports: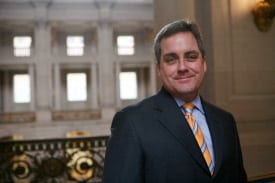 Herrera is running in part on his record working for same-sex marriage. His campaign website calls him "one of nation's foremost leaders in the fight for marriage equality." He even beat Dufty, the only openly gay candidate in the race, for the prestigious No. 1 endorsement from the Alice B. Toklas Democratic Club, the oldest gay-rights Democratic club in the country.
But four senior members of Newsom's inner circle at the time say Herrera was initially strongly opposed to Newsom's decision to start marrying same-sex couples in February 2004, a defining chapter in the city's recent history that helped reframe the national debate over marriage equality.
"He was not even passively supportive. He was an obstruction," one of the sources said. Several said they are speaking out now because they were upset by Herrera politically benefiting from the issue.
Also in the running, 15 other candidates including out gay former SF Supervisor Bevan Dufty.