Vanessa Redgrave plays Queen Elizabeth, a role that's been an awards magnet in the past. It must have been a real coup to get her.
 I always saw her in this part and I'd worked with her daughter before in The Patriot (2000). I thought they were ideal for it and I was really happy they felt the same way.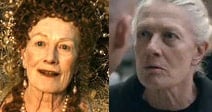 Vanessa is always so watchable. It's cool that she did this and Ralph Fienne's upcoming adaptation of Coriolanus in 2011 — two Shakespeare movies in the same year!
Shakespeare and the Fake Shakespeare [laughs]. It's strange but I'm reading more about Shakespeare now than during the last ten years. I think Shakespeare is one of these writers you can read your whole life and you can still constantly find new things in it. It's the secret to why he's still relevant and performed after 400 years. 
It also helps that he has such a huge body of work. Even if it all wasn't written by one person — there are other theories…
I know every one of them!
Did you have to totally buy into this particular theory — that Shakespeare (an actor) never wrote a word — to make your movie. Or was it more like a game to you to present one theory?
The whole thing is quite peculiar to me. I now know what people mean when they say "Literary Establishment."  It's all these professors who make their livelihood telling people one thing and they don't want to move off of it; they're a little bit like children.
So you're expecting that the scholars won't like it?
Historians have the hardest time because in a weird way for them we get a lot of things wrong. They're used to believing in certain things and all of a sudden you're saying something else. In their heads it's just not computing. But there are a lot of Stratfordians who have said "I like this film." They appreciate the way we show theater in that time — how lively it was.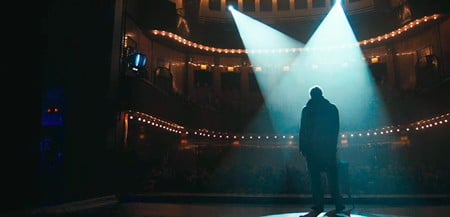 It was definitely fun to be reminded that theater was once for the masses. Did you always plan to have it framed the way it is, as a play that becomes the movie. It almost starts like Louis Malle's Vanya on 42nd Street with the actor (Derek Jacobi) running to the theater. In a way it's also kind of like a storybook, like an old Disney movie. Open the book and you're off and running.
For the longest time we did not have that opening. We gave everybody who read this script these two page of facts about the man from Stratford. At one point i called up John Orloff the writer and said "We can't keep doing that. We have to incorporate this into the film somehow. So whenever you have an idea…"  but then I had it myself. I was editing 10,000 BC in London and Soho in the West End and you always walk by these theaters and one day it hit me. 'Why don't we do it as a play?  It can be on the marquee!' 
You're an out director, you've donated to gay causes. But you do all these huge mainstream sci-fi movies. Would you ever do a gay film? 
If the right one comes along. I would love to put more openly gay characters in my mainstream movies which is something I'm really working on. Honest to god, I'm constantly trying, like, "who can i make gay?" [Laughter]. But i also don't want to do it blatantly. That's not good. It's all about integration, show it as a totally normal thing without making a big deal out of it. 
So what you're saying is that Universal Soldier is going to remain your gayest movie.
[Laughs] Some people would say Moon 44. You'll have to check it out. People call that one gay. Dean Devlin [a producer], who I later worked a lot with, he's an actor in that film. When the movie came out Dean totally freaked out because a friend of his told him that his movie was running in a gay club so he went and checked it out and there it was playing.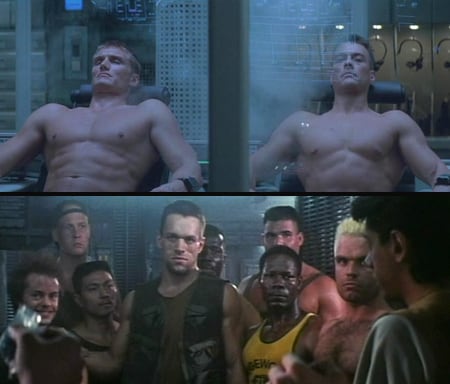 Universal Soldier (1992) and Moon 44 (1990) — Emmerich's gayest films?
So what kind of gay films do you like yourself?
 Um… [pauses] I like Brokeback Mountain. That was a good one.
So you'd still prefer to do something epic rather than something like, say, Weekend?
No, you know what? Look at Anonymous. I mean I have a certain taste for… I like other people's small movies but when it comes to my fantasy, my images. They always have to be… 
It has to be big?
It has to be big or I don't like it.
[Roland Emmerich's "Anonymous" opens Friday, October 28th in major U.S. movie markets.]