Gay Holland, Michigan pastor was released from jail last night after being arrested protesting the City Council's refusal to expand anti-discrimination statutes to include LGBT people, The Grand Rapids Press reports: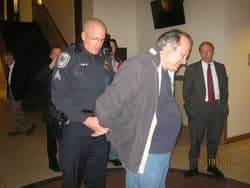 Freeman, minister of Interfaith Congregation, was arrested Wednesday night after he refused to leave City Hall. He has worked to expand the city's anti-discrimination ordinance to include gay, lesbian, bisexual and transgender people. Police had twice asked him to leave the city building but he refused. He was handcuffed and taken to the Ottawa County Jail.
WOOD TV adds:
The morning after his arrest, Freeman seemed to have some regret.
"Did I waste my time? I think I did," he wrote on Facebook. "Still no equal rights in Holland. Sorry."
The Council voted 5-4 in June to not expand the statutes.
Freeman said he was inspired by the Occupy Wall Street movement.
"I think sometimes the only thing you can do is civic disobedience. I hoped it wouldn't come to this," Freeman said. "I don't know what else to do. I've tried everything else."