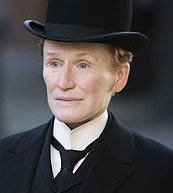 Okay, okay. Aaron Johnson is not of much consequence to Albert Nobbs, but I just wanted to post those screengrabs courtesy of MNPP. Can you blame me?

Albert Nobbs is really all about Glenn Close's Oscar grab though the trailer does seem to have something of an identity crisis itself. Close plays the titular character, a female waiter who passes herself off as a man in Ireland. She finds an unexpected ally in Mr Hubert Page (Janet McTeer) someone much more comfortable with their trans identity. Not many people have seen the film yet but among those who have there's some concern that it's too restrained a star turn and film to win Glenn Close that elusive Oscar. But "career achievement" angles and story hooks can go a long way during Oscar season. It's worth noting that Glenn Close first played this role on stage in 1982, which was also the year of her movie debut (The World According to Garp) for which she earned the first of her five Oscar nominations and she co-wrote the Nobbs screenplay. That's quite a lot of material with which to build an Oscar campaign. I wouldn't bet against her for a Best Actress nomination (at least at this point). 
Speaking of Oscars and actresses, some people are mighty pissed at Hilary Swank for a recent appearance in Chechnya. 

Michelle Williams is also generating Oscar buzz now that people have been seeing My Week With Marilyn. Michael Musto reminds us of this tragic Marilyn Monroe Oscar Factoid. The subject of Marilyn and acting is always a fascinating one since "Marilyn" was a performance from the beginning. Here's a great piece on the overplayed legend and the underplayed quality of Monroe's acting. I also saw the film but while I think Michelle is certainly giving it her all the takeaway for me was hammy Kenneth Branagh's brilliant casting as hammy Sir Laurence Olivier.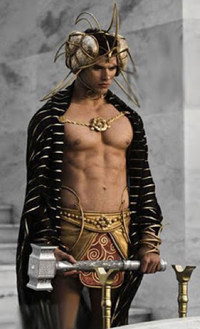 The Immortals, that sweaty muscley Tarsem Singh picture (he previously directed the visual wows that were The Cell and The Fall) sure is banking on the beefcake to pack 'em in on opening weekend. Regarding the new photos of Henry Cavill (your future Man of Steel) and Kellan Lutz (to your right),  it's worth noting that the costumes are by the brilliant Eiko Ishioka who won the Oscar for Bram Stoker's Dracula (1992) for costume design that practically doubled as art direction. Who needs sets when you've got Ishioka costumes?

Newsflash: Jack Nicholson has not retired from acting despite appearances. Turns out he's considering a Jackie Robinson biopic.

This new TV season is so trashy isn't it between new bitchy soaps like Ringer and Revenge? I don't know what the hell to make of American Horror Story but the legendary Jessica Lange is definitely winning fans again with her latest variation on Unstable Faded Beauty.

Whatever you think of out director Joel Schumacher and many people aren't fans, this new interview with Movie|Line on the occassion of the release of Trespass (starring Nicolas Cage and Nicole Kidman) is kind of endearing. Love this bit:
My job is to hire the most talented people and just keep reminding them how talented they are. How heightened is too heightened? I think we all love over-the-top. One big director said, "No one ever paid money to see 'under-the-top.'
That's so true. If Glenn Close were any less obvious about wanting to win an Oscar, if Eiko Ishioka were any calmer with her costuming, and if Pedro Almodóvar weren't dependably outré and colorful, we'd be sorely disappointed.