Despite the fact that he says he lives in "continuous and overwhelming" fear of his identity becoming public, a judge has ordered release of the name of the man seen kissing Rutgers student Tyler Clementi on a webcam to Dharun Ravi in order that he may be build his defense, the Star-Ledger reports: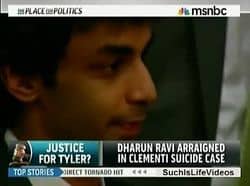 The name of M.B. — the unidentified man seen kissing Clementi on a webcam last year — will be revealed to the student accused of spying on the pair in a Rutgers University dorm room, according to a ruling issued today in New Brunswick.
Superior Court Judge Glenn Berman had delayed a September order to release the name of Clementi's companion, known only as M.B. in court papers, in order to give M.B. a chance to make a last-minute plea for anonymity. But M.B.'s personal, written request to keep his identity secret and his attorney's legal arguments didn't convince Berman to reverse his earlier ruling. He ordered prosecutors to turn over M.B.'s identity to Dharun Ravi, the former Rutgers student facing up to 10 years in prison for allegedly using a webcam to spy on the unnamed man and Clementi in his dorm room.
Although his name will be released only to Ravi and his defense team, his identity will likely come out if he is called on to testify. The trial has been set for February 21.