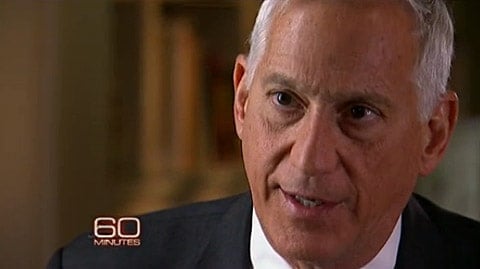 In an interview to be aired Sunday on 60 Minutes, Steve Jobs biographer Walter Isaacson said that the Apple co-founder waited nine months before pursuing cancer treatment options that would have likely saved him. In that time he pursued alternative health treatments.
"I think that he kind of felt that if you ignore something, if you don't want something to exist, you can have magical thinking…we talked about this a lot…He wanted to talk about it, how he regretted it….I think he felt he should have been operated on sooner."
Watch, AFTER THE JUMP…
The book also detailed a 2010 meeting Jobs had with Obama, the HuffPost adds:
"You're headed for a one-term presidency," he told Obama at the start of their meeting, insisting that the administration needed to be more business-friendly. As an example, Jobs described the ease with which companies can build factories in China compared to the United States, where "regulations and unnecessary costs" make it difficult for them.
Jobs also criticized America's education system, saying it was "crippled by union work rules," noted Isaacson. "Until the teachers' unions were broken, there was almost no hope for education reform." Jobs proposed allowing principals to hire and fire teachers based on merit, that schools stay open until 6 p.m. and that they be open 11 months a year…
…Though Jobs was not that impressed by Obama, later telling Isaacson that his focus on the reasons that things can't get done "infuriates" him, they kept in touch and talked by phone a few more times.
Watch Isaacson talk about Jobs and alternative medicine, AFTER THE JUMP…
If the video isn't running, watch it HERE.