Senator Kirsten Gillibrand (D-NY) says she'll introduce legislation to bar discrimination against gay and lesbian couples who want to adopt or provide foster care, Capitol Confidential reports: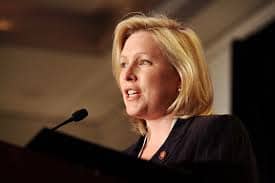 Gillibrand, D-NY, will be the Senate sponsor of the Every Child Deserves a Family Act, backed in the House by California Democrat Pete Stark.  The federal government invests some $8 billion in the child welfare system annually, but Gillibrand doesn't want that money ending up with adoption agencies and foster care entities that don't consider LGBT parents as candidates to adopt.
Five states prohibit same-sex couples from adopting children, and more than 20 others do not have legal guidelines addressing the issue. While New York does allow same-sex couples to adopt, Gillibrand said hundreds of thousands of children nationwide could be helped by this bill.
Said Gillibrand in a press release: "New York is a leader on ensuring that any family can adopt children and sets a great example for the rest of the country. By removing all barriers for LGBT families to serve as foster parents, New York State has increased its foster parent pool by 128,000 prospective parents. This legislation would open thousands of new foster and adoptive homes to children ensuring they are raised in loving families."