National Stonewall Democrats Executive Director Michael Mitchell will step down at the end of the month, reports Chris Geidner at MetroWeekly: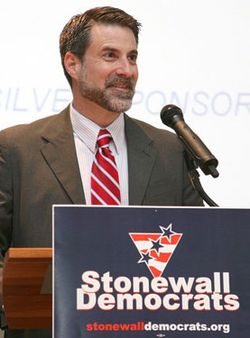 The nation's economic picture and its impact on nonprofit fundraising, as well as the challenges of finding funding for Stonewall Democrats in an increasingly pro-LGBT Democratic Party, have caused fiscal headaches for Mitchell and the group.
''Like many nonprofit organizations, we're struggling, and I'll just come out and say that. And I don't think that's necessarily a secret,'' Mitchell says. ''In this economy, and, with the way politics has been going, we've been struggling to get donations in. We've seen a recent uptick in that, which is heartening. I'm excited about that, but we have struggled.''
A lack of funding led to Mitchell being informed that he was going to be laid off at one point earlier this year, until the board was offered and accepted a last-minute anonymous donation that enabled the organization to keep Mitchell on board.
Debate over the donation was heated, however, and several board members have left the organization since then. Currently, only six of the 15 possible board seats are filled.
Said Mitchell in an interview: ''It's certainly been an honor and privilege to work with the people I've been able to work with…We're at the end of that contract. so it just feels like the right time for me personally to not renew my contract.''
Geidner reports that Jerame Davis has been named interim executive director.