UPDATE: Forrester has died.
North Carolina state senator James Forrester, the lead sponsor of the state's successful bill to constitutionally ban same-sex marriage who made headlines in September when he told a town hall that gay people die early and should adopt a "normal lifestyle," has been hospitalized, apparently in grave condition, WRAL reports: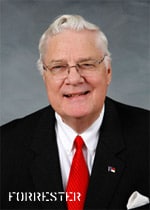 "Sen. Forrester is in ICU, and the family has been called in," Forrester's sister-in-law, Sally Beach, said by phone Monday morning. "They're scattered all over the place. They're trying to gather."
She did not say what was wrong with the senator, adding that her statement was all she could offer at the time.
A Denver, N.C., newspaper reported Monday that Forrester, 74, was reportedly on life support after being admitted to a Gastonia hospital on Sunday for cranial bleeding.
His office at the General Assembly could not confirm the report.
Forrester is a physician and an 11th term senator.
On September 28, Michelangelo Signorile performed what may have been Forrester's last on-air interview, in which the Senator could not back up any of the claims he had made about gay people, couldn't explain why gays harm marriage, and accused Signorile of trying to set him up. Listen to it HERE.