Kim Kardashian and Kris Humphries are the new poster children for the non-sanctity of marriage.
TMZ reports: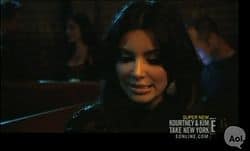 "Kim Kardashian will file for divorce this morning, after 72 days of not-so-wedded bliss to Kris Humphries  … TMZ has learned. We're told even though the marriage was short, she will not seek an annulment. It's a garden variety divorce, in which Kim cites "irreconcilable differences." We're told the date of separation is listed as today, Oct. 31, 2011….The couple was married on August 20 in a lavish ceremony (see below) in Montecito, CA. There are reports that the wedding cost as much as $10 mil, which means $138,888 for every day until today."
People adds: "Yes @kimkardashian is filing for divorce this morning," Tweets Ryan Seacrest, who produces her reality show. "I touched base with her."
Watch a preview of their divorce (only on E!), AFTER THE JUMP…