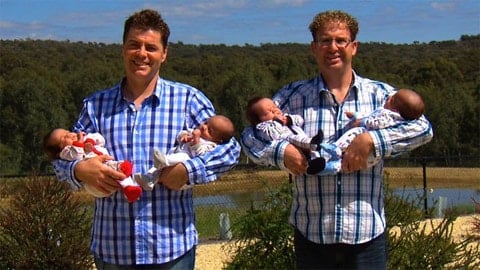 Australia's Herald Sun reveals what happens when you mix two gay men, two surrogates, and a feritility doctor:
The couple, known only as Tony and Brett, revealed their unconventional family to the nation last night after bringing the babies home from India. The couple told the Nine Network they started the surrogacy process in 2009, flying to Delhi to meet a fertility doctor. After a number of failed attempts, doctors recommended two women be implanted with four eggs from donors and fertilised with the men's sperm, they told A Current Affair.
The paper adds: "They paid $130,000 to realise their dream of having a family, with each surrogate paid $6000-$7000. The men said they would be the best parents they could be and were not fazed by judgments from others."