The New Hampshire House Judiciary Committee today voted 11-6 to advance a bill that would repeal the state's marriage equality law, the AP reports: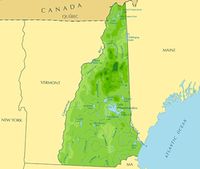 The bill would not enact the same civil unions law that was in effect before gays were allowed to marry. That law granted gays all the rights and responsibilities of marriage except in name. The proposed civil unions law would be open to any two adults and would let anyone refuse to recognize the unions. It also would allow anyone to discriminate against the couples in employment, housing and public accommodations based on religious or moral beliefs.
Supporters said the two proposed repeal bills would not apply to gay marriages that have already occurred, but would stop new ones. More than 1,500 New Hampshire gay couples have married so far under the current law.
Governor John Lynch has said he would veto the bill. Two-thirds majority is required to override the veto.