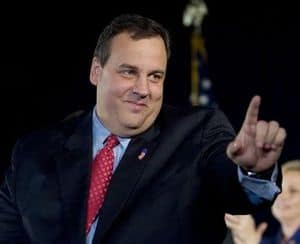 New Jersey is officially way to the left of Gov. Chris Christie on "marriage equality"! It's also slightly to the left of Gov. Chris Christie on "gay marriage," according to the South Brunswick Patch. (HT: Lez Get Real.) Yes, those are the same things. The Patch explains the disparity:
While support measured with the term "marriage equality" is stronger than for "gay marriage," by 61 percent to 52 percent, certain groups are especially influenced by the name change. Support among those who never attended college jumps 25 points to 66 percent for marriage equality, while support among men climbs 16 points to 63 percent.
So — does that mean that many of the respondants who agree with "marriage equality" don't know what the term means?
Other interesting facts from the survey:
Catholics are more likely than Protestants to agree with gay marriage. A majority of Democrats and Independents agree with gay marraige; Republicans are largely opposed. Gay marriage is more popular among women than men. And all of these numbers fluctuate according to the pollster's language. Equality good, marriage bad. Bizarre.
All of these results are consonant with those found by a poll in August.