Earlier I posted that North Carolina state senator James Forrester, the lead sponsor of the state's successful bill to constitutionally ban same-sex marriage, was hospitalized.
He has died: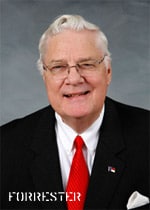 Family members said the 11-term senator – who represented Gaston and Lincoln counties – was admitted to Gaston Memorial Hospital over the weekend. He died Monday.
"Jim was a dear friend who I respected and admired. He had a long and distinguished career serving the people of North Carolina. The thoughts and prayers of everyone at the North Carolina Republican Party are with Mary Frances and the Forrester family tonight," said North Carolina GOP Chairman Robin Hayes in a statement.
Forrester, an 11-term senator and physician, was 74. He made headlines in September when he told a town hall that gay people die early and should adopt a "normal lifestyle."