Occupy Wall Street (OWS) has been called a movement, a non-movement, a left-wing tea party, a hippy-come-lately sit in, and the expression of "broad-based frustration about how our financial system works." I don't know what it is, but I doubt it will turn into anything effective. Hedge fund fat cats seem like perfect enemies; in fact, liberals like Teddy Roosevelt, Woodrow Wilson and their Progressive Era allies created an entire political movement based, in part, on popular indignation about corporate shenanigans, trusts, and restraints of trade.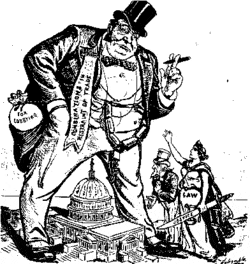 The political cartoon to the right, depicting an enormous corporate robber baron astride Congress and eclipsing the power of law, justice, and Uncle Sam was typical of the creative and pervasive satire of the day. The Progressives busted trusts, imposed unprecedented government regulations on food, passed landmark labor laws, and galvanized millions of urban and rural poor Americans who had been marginalized during the Republican Party's dominance in the late Nineteenth Century. Even President Franklin Roosevelt's New Deal coalition — and its associated regulatory state that came to define America for the next century — took advantage of popular opposition to the wealth and extravagance of unregulated businesses during the interwar years.
But, Americans, at heart, have curiously mixed feelings about the so-called "fat cats" on Wall Street whereas they have decidedly clear (and negative) feelings about the "fat cats" that live a few hundred miles south, in Washington, DC. There are many reasons for that — most Americans feel they can become rich if people left them alone and the federal government has always suffered from a certain "otherness" in our social fabric. This oft-repeated thesis is not mine and it probably rings true, but it is beyond my area of expertise and outside the scope of this post. What I would like to argue is that if OWS would like to become a legitimate political movement or have any hope of influencing policy, it has chosen the wrong enemy. A far more appealing focus of the 99%'s indignation should be — and has been throughout American history — the conservative federal judiciary, in general, or the United States Supreme Court, specifically.
CONTINUED, AFTER THE JUMP…
The Supreme Court has been the target of political campaigns throughout (mostly recent) American history, and each campaign was successful. The Progressives did it, the New Dealers did it, and Nixon and Reagan did it by campaigning against Lochner v. New York, Schechter v. United States, and the Warren Court's criminal procedure decisions, respectively. Maybe activists should take a cue from history and focus on the modern Supreme Court's undeniable, unprecedented, and often radical pro-business tendencies rather than focus on those that simply make money.
Lochner v. New York (1905) was a landmark decision of a staunchly conservative Supreme Court that believed that the Constitution vested the state with little, if any, power to regulate contractual rights. The case involved a challenge to New York labor law that limited the number of hours bakers could work to a maximum of 10 hours in a day and 60 hours per week. A bakery owner who flagrantly violated the state law appealed his conviction up the ladder, arguing that states lacked the power to regulate his right to make his own contracts with his workers because the Fourteenth Amendment prohibited states from "depriv[ing] any person of life, liberty, or property, without due process of law." The Court had previously held that this restriction on state power included both procedural — the framework of laws and procedural protections that made our justice system fair — and substantive — rights of individual liberty that were deeply ingrained in our nation's history — elements. In a sharply divided decision, the Court held that the state could not interfere with an individual's freedom of contract, both the bakery owner's and his worker's. If they wanted to get together and agree to be paid a certain hourly wage in exchange for a 14 hour workday, the state could not say otherwise, regardless of the alleged health, safety, and welfare benefits of labor protections.
Woodrow Wilson spoke about Lochner on a regular basis during his 1912 campaign for president (even though his writings soon after the decision while president of Princeton University seemed to agree with the result). He argued that the primary flaw in the Lochner Court's reasoning (reasoning that he, arguably ahistorically, attributed to the Framers, as well) was its rigidity: the Constitution, Wilson wrote, "is not a machine, but a living thing." After mentioning what he had come to view as a wrong decision in Lochner in his first inaugural address, President Wilson said that "[t]here can be no equality or opportunity, the first essential of justice in the body politic, if men and women and children be not shielded in their lives, their very vitality, from the consequences of great industrial and social processes which they can not [sic] alter, control, or singly cope with. Society must see to it that it does not itself crush or weaken or damage its own constituent parts. The first duty of law is to keep sound the society it serves. Sanitary laws, pure food laws, and laws determining conditions of labor which individuals are powerless to determine for themselves are intimate parts of the very business of justice and legal efficiency." Robert LaFollette, the progressive lion of Wisconsin, called Lochner the "greatest threat" to allowing the states to resolve the nation's problems. And, Louis Brandeis criticized the decision as cutting off the natural experimental legislative prerogatives of the states.
Lochner also became a cause celebre of the legal left, led by such luminaries as Brandeis, Benjamin Cardozo, Learned Hand, and Felix Frankfurter. They used this decision in their academic writings and impact litigation to exemplify the overstepping of a handful of unelected judges who sought to thwart the will of the majority of the people. And, this was Lochner's greatest appeal to a progressive movement that was starting to win federal and state elections and turning legislatures toward social reform.
The same meme characterized Franklin Roosevelt's and his allies' attacks on the Court's decision in Schechter v. United States (1935). Schechter, like Lochner, declared a liberal social or economic program unconstitutional. The case involved a challenge to the centerpiece of Roosevelt's New Deal, the National Industrial Recovery Act, commonly known as the NRA. The NRA allowed the executive to set various economic regulations, including, among many other things, price controls, wage fixes, and prices for whole chickens. Schechter, a chicken wholesaler who was charged with selling sick chickens into the stream of commerce, challenged the regulations as an overstepping of Congress's power to regulate commerce. The Supreme Court agreed, invalidating one in a series of New Deal social and economic programs. Congress could not regulate anything unless it had a direct impact on interstate commerce, the Court said, and Schechter's chickens were almost exclusively involved intrastate commerce.
Roosevelt and wide Democratic majorities in Congress and throughout most state legislatures railed against the Court's "antiquated," "dangerous," and "outdated" views. Up for re-election in 1936, President Roosevelt not only mentioned the Supreme Court 17 times in one speech in Pittsburgh, but ultimately proposed the famous "Court-packing" scheme whereby he basically dared the "old men" at One First Street to keep challenging his New Deal or face the appointment of one new judge (up to an additional six) for every sitting judge over the age of 70 years and 6 months. if it has passed, the President would have been able to stack the majority with jurists of his own political persuasion, thus ensuring the New Deal's survival. As it happens, Justice Owen Roberts, a conservative member of the Court, saw this for what it was — a challenge to the institutional independence of the Court — and rather than letting it happen, he switched his vote from anti- to pro-New Deal regulation in the 1937 case of West Coast Hotel v. Parrish. By the end of his presidency, Roosevelt appointed more justices than any president since Washington, "packing" the Court through natural attrition.
And, some thirty years later, while campaigning for the presidency in 1969, Richard Nixon blasted the criminal procedure rights revolution of the Warren Court — Miranda rights, the right to counsel, search and seizure protections, restrictions on police searches, the exclusionary rule — as part of his "law and order" campaign. Then-candidate Nixon pilloried liberal lions like Chief Justice Earl Warren and Justices Brennan and Douglas for "creating law" and "letting criminals out on the street" and "becoming activist judges making the law" where they should just be interpreting it. That meme has continued to this day unabated in the Republican campaign machine.
These political campaigns against alleged overstepping by the Supreme Court have all been effective. Wilson, Roosevelt, Nixon, and Reagan all won political and legislative victories by taking on the nine unelected "old men" who, they alleged, were out of touch with a majority of Americans, whether that majority be "silent" or in control of Congress. These campaigns worked because the Supreme Court, and the federal judiciary as a whole, is anti-majoritarian: it is constituted by unelected judges, appointed for life, with little oversight. It makes important decisions that impact our daily lives and it is accountable to few, if anyone. That anti-democratism has an important purpose — it insulates the search for truth and impartial justice from constantly swaying political whims; but, as a social movement, authoritarianism is a convenient enemy. It is a much more convenient enemy than individuals working to make money, something that most Americans want to do — and think they could — on their own. The Horatio Alger in our social fabric makes us natural allies with Wall Street, and natural enemies with unelected judges and, for that matter, anyone or any institution trying to regulate away our freedom. If liberal are to succeed in reorienting the national conversation, they cannot demonize millionaires just because they're millionaires; rather, they should focus on the institutional radicals who let the millionaires run wild.
***
Ari Ezra Waldman is a 2002 graduate of Harvard College and a 2005 graduate of Harvard Law School. After practicing in New York for five years and clerking at a federal appellate court in Washington, D.C., Ari is now on the faculty at California Western School of Law in San Diego, California. His research focuses on gay rights and the First Amendment. Ari will be writing weekly posts on law and various LGBT issues.
Follow Ari on Twitter at @ariezrawaldman.