The principal of Sequoyah High School in Tennessee assaulted a A 17-year-old senior after he wore a T-shirt to school expressing support for a Gay-Straight Alliance, the ACLU of Tennessee reports: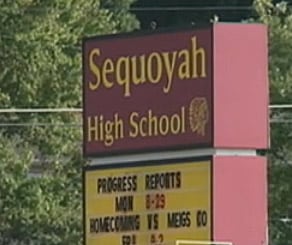 Sigler wore a homemade T-shirt to school last Tuesday that said "GSA: We've Got Your Back." A teacher ordered Sigler to cover up the shirt in the future. Sigler, knowing he had a right to wear the shirt, wore it again Friday, and resisted an order to remove the shirt. Sigler says that Moser then ordered all students out of the classroom, except for Sigler's sister Jessica, who refused to leave. According to both students, Moser then grabbed Sigler's arm, shoved him, and chest-bumped him repeatedly while asking "Who's the big man now?" Sigler's mother reported that when she arrived at the school, she saw her son seated in a desk with Moser leaning over him and shouting in Sigler's face. The Siglers filed a report about the incident that afternoon with the Madisonville Police Department.
"All I want is to have a GSA at my school to help stop the bullying against gays and lesbians and their friends who support them," Sigler said. "The shirt was a way to use my voice and show my support for the club. The way I was treated shows even more why we need a GSA here."
The ACLU has sent a letter to the school district demanding the student's right to freedom of expression be protected.
Said Hedy Weinberg, executive director of the ACLU of Tennessee: "It is totally unacceptable that a young man who was peacefully exercising his First Amendment rights would have his speech shut down by the public school principal. Last week's incident clearly illustrates the hostile environment LGBT students face at Sequoyah High School. Given this context, it's especially important that supportive voices like Sigler's can be heard in order to overcome the school's resistance to a GSA."
You may recall that I posted in early September that students had been threatened with suspension for trying to start a GSA at Sequoyah.
Watch a news report on it, AFTER THE JUMP…