Mark Ruffalo at the Occupy Wall Street protests.

"Sunrise, Sunset" from Fiddler on the Roof gets rewrite for gay wedding.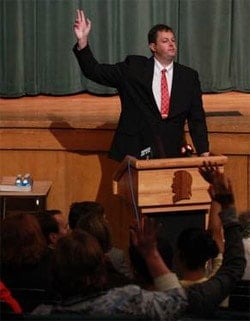 Parents at Williamsville North High School, Jamey Rodemeyer's school, hold bullying town hall: "Dozens of parents and students expressed their concerns about student harassment. Some also shared personal experiences in which adults witnessed bullying and failed to take action."

Cher wants to drop-kick the Kardashians.

Call your dad and tell him you love him today.

Glee's Chris Colfer appears at the New Yorker festival, talks about life as an icon: "Somewhere in L.A., there is a closet full of horrible audition tapes of me that's going to hit YouTube. I'm going to lose all credibility."

Rainbow flags targeted at Unitarian Universalist churches in Massachusetts: "The Unitarian Universalist Association, which opposes discrimination against gay people, said marriage equality banners and rainbow flags have become easy targets because of congregations' visibility and support of gay, lesbian, transgendered, and bisexual issues. In the past decade, seven Unitarian churches have reported at least 11 incidents in which rainbow flags were stolen or vandalized at parishes across the state, including Bridgewater, Watertown, and Quincy."

What everybody needs: a new album of Garbage.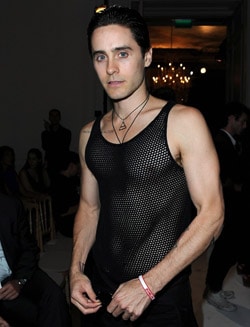 Jared Leto teases his nips at YSL.

>Howard Bragman steps down as CEO of his PR firm: "Bragman, also a Hollywood political player, told THR he is vacating the CEO post because he has responsibilities and interests beyond running the public relations firm he founded in 2005…"

Country and Western gay bar Flaming Saddles opens in NYC's Hell's Kitchen.

Denmark implements 'fat tax': "This surcharge would apply to all foods containing 2.3 percent or more saturated fats."

White House weighs in on 'Occupy Wall Street' protests: "We understand."

Ann Coulter to appear on The A List: Dallas.

Gay couple brutally attacked in Sao Paulo: "The couple was first verbally harassed by the aggressors at a gas station in which they had stopped to buy cigarettes on their way home. The verbal harassment then escalated to a brutal physical attack right in front of restaurant Mestiço. According to one of the victims, the attackers called them faggots and said that they 'had to die' before hitting them one of them with punches and kicks to the point that he ended up with a broken leg."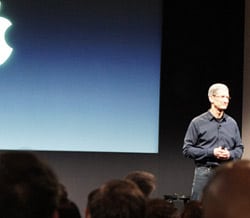 iPhone 5 a no-show at Apple event. Business Insider: "So what is Apple thinking? Was there some manufacturing screw-up? Has Apple just run out of ideas? Not at all. It is simply continuing forward with its biggest hit product ever." Watch the keynote video HERE.

John Waters talks about his new book, Role Models: "Role Models came about because I knew it was time to write another book. Whenever you've told the stories in your head to your friends so many times that nobody else can stand to listen you know it's time to write a book.  I couldn't get a movie made.  And I always need an outlet to tell stories. I had written two other books that I liked and enjoyed doing it, so I just decided to do it. New Directions had asked me to write the introduction to the Tennessee Williams' Memoirs.  That sort of gave me the idea to do it. I always knew I had that book in me and as soon as I thought about it I came up with all the people in like five minutes. I mean, it took a year of research before I started writing it. But it was a book that came very naturally to me."