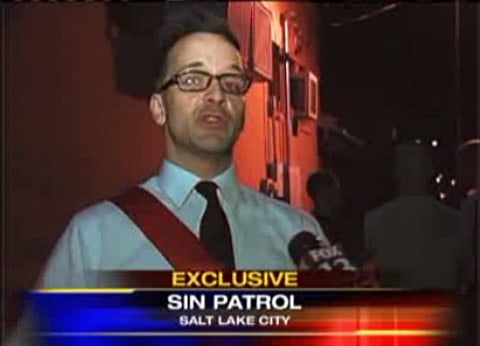 In response to a series of gay bashings in Salt Lake City recently, 140 volunteers are now part of the S.I.N. (Safety in Numbers) patrol, and roam Utah streets on the look-out for gay bashers or at risk people.
In a matter of moments the men transform into what looks like a cast of discarded Disney characters. One guy looks like an overgrown leprechaun, one squeezes into a black and white leotard, and another emerges from the bathroom wearing an ugly green dress with shoulder pads. Joshua dons thigh high boots, shorts, a robe, and a headdress. Someone asked why he was wearing so many belts. "In case all this fashion busts loose" he joked. As he shows off his ensemble, he points out an accessory. "A little pepper spray just in case." Then it's off to the clubs.
Said S.I.N. founder Joshua Barnes: "There's been a lot of people complaining there's not enough police coverage or security in the clubs,"  "The police do a good job, but they can't be everywhere. We thought rather than just complain, we'd just do something. And the simplest thing we could do is just be here. Be an extra set of eyes, an extra body."
Watch, AFTER THE JUMP…