Brandon mentioned this in his link round-up, but the eulogy written for Steve Jobs by author Mona Simpson, the sister he discovered he had two decades into his life, is the most heartfelt piece I've read about the Apple founder since his death: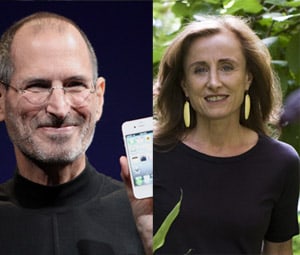 Tuesday morning, he called me to ask me to hurry up to Palo Alto. His tone was affectionate, dear, loving, but like someone whose luggage was already strapped onto the vehicle, who was already on the beginning of his journey, even as he was sorry, truly deeply sorry, to be leaving us.
He started his farewell and I stopped him. I said, "Wait. I'm coming. I'm in a taxi to the airport. I'll be there."
"I'm telling you now because I'm afraid you won't make it on time, honey."
When I arrived, he and his Laurene were joking together like partners who'd lived and worked together every day of their lives. He looked into his children's eyes as if he couldn't unlock his gaze. Until about 2 in the afternoon, his wife could rouse him, to talk to his friends from Apple. Then, after awhile, it was clear that he would no longer wake to us. His breathing changed. It became severe, deliberate, purposeful. I could feel him counting his steps again, pushing farther than before.
This is what I learned: he was working at this, too. Death didn't happen to Steve, he achieved it.
Steve's final words, hours earlier, were monosyllables, repeated three times.
Before embarking, he'd looked at his sister Patty, then for a long time at his children, then at his life's partner, Laurene, and then over their shoulders past them.
Steve's final words were:
OH WOW. OH WOW. OH WOW.